A Look at Rural New Mexican Life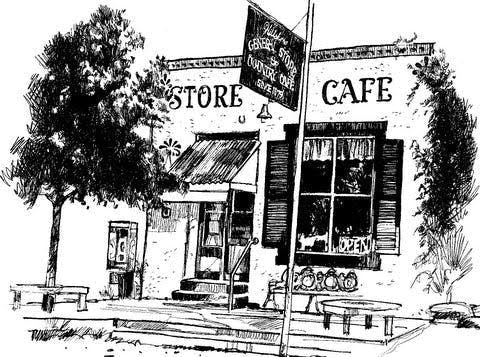 Our Story
Doreen and I were living in Canada when we first laid eyes on the Hillsboro General Store in 1992. That winter we were planning a visit with my brother and family in St. Joseph, Missouri to celebrate a traditional 4th of July. After that we would still have two weeks of vacation, so we took a string tied to a pencil and drew a circle on a US road map. The circle cut through New Mexico a place that Doreen had never visited.
Since this was pre-internet, we spent the rest of the winter poring over travel guidebooks of New Mexico. The General Store was included in the most interesting one called Off the Beaten Path New Mexico. We included it in our itinerary.
The owners of the Hillsboro General Store and Country Café had put a few old kitchen tables in among the hardware and groceries and offered a small breakfast and lunch menu. The green chile sausage burrito was great, and the visit became the memorial touchstone for the trip.
In 1994 we were planning another vacation and business trip. I had been promoting the idea of dumping our careers and moving to the US. Doreen was agreeable but promoting a responsible transition and I of course was looking for more radical change. She kept asking if I had set up appointments with my state side contacts for potential employment opportunities and I responded, "why don't we do something different like buy the Hillsboro General Store and really change our lives." Her response was "too bad it's not for sale".
While overnighting in Las Cruces toward the end of the trip, I was perusing the local paper classifieds and found a small ad for a business for sale in Hillsboro. "It has to be the Hillsboro General Store" I claimed. "So, what are you going to do about it?" she responded and the rest, as they say, is history.
Now some 27 years later we are the caretakers of the General Store and its history. So, whatever your journey or reason for arriving at our door, our goal is to be the place you always hope you'll find when you go wandering off the beaten path. It was for us.