Ben's Southwest Cocina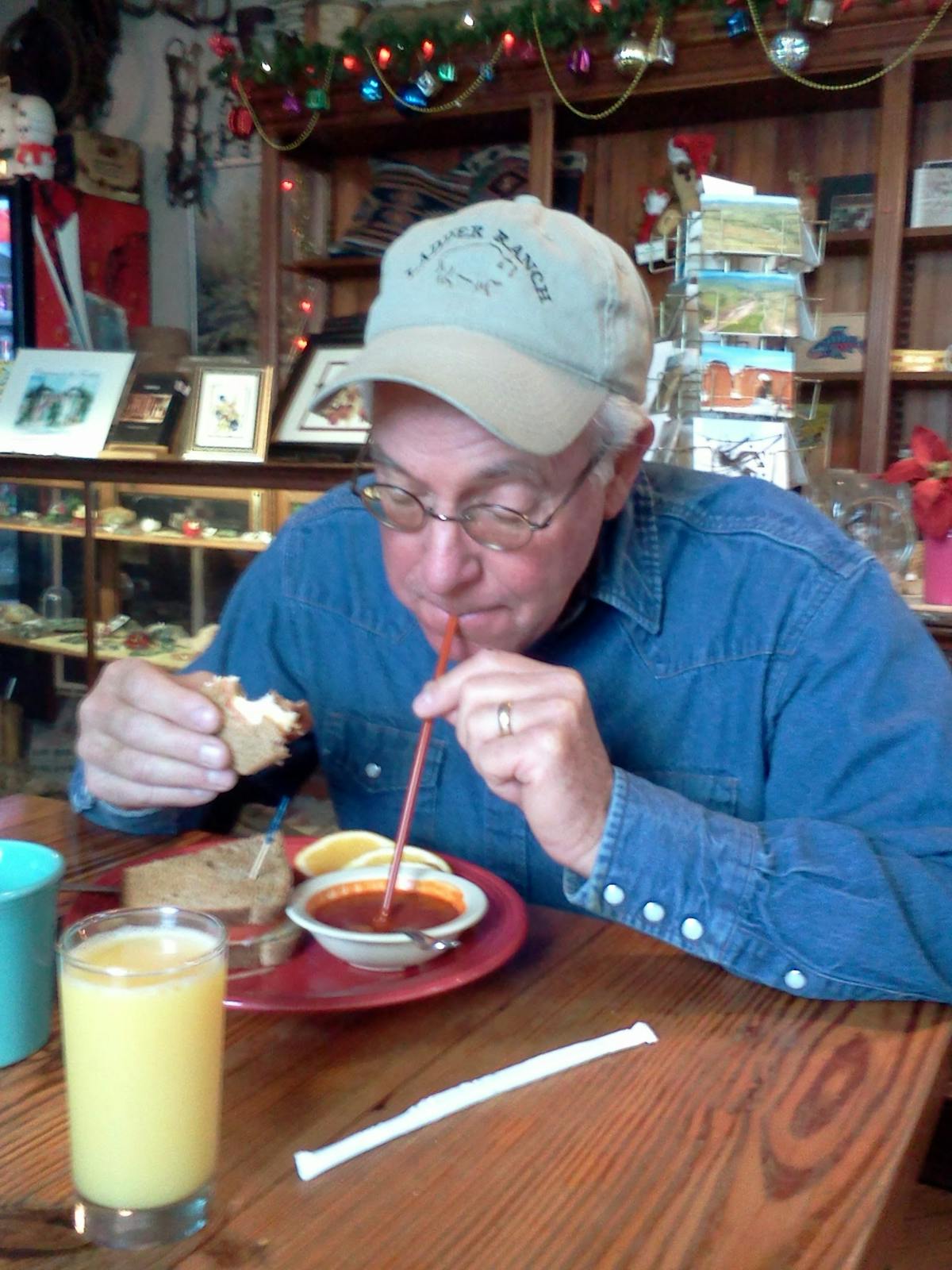 Red Chile Sauce
"Can you give me your red chile sauce recipe?" is probably the most frequent request we get. I always respond and have always thought that there is really only one recipe for red chile sauce with some relatively minoxr. Meaning that there are some regional and minor personal differences in New Mexico; the most significant is the traditional use of chile powder and flour as a thickening agent in northern New Mexico.
We have always tried to keep it simple in our preparations for the cafe and let the ingredients shine. The first and most important ingredient in red sauce, of course, is chile. We use sun dried Sandia chile and our strong preference is chile that is dried on the plant. The reason for this is that chile dried on plastic tarps or metal roofs can develop a fungus at the shoulder of the chile if it isn't turned often enough or gets wet in the drying process.
Sun dried chile produces the most vibrant color in the finished product and is simply a joy to behold on the plate. The only other option is to use the mechanically dried chile which you typically find in grocery stores. A less desirable option, but if that is your only choice I say go for it. The color will be darker and less vibrant and the drying process toasts the chile which some people do, but we don't.
The next step in the process is re-hydrating the chile pods. The first step is to remove the stems and seeds. It's always a good idea to wear nitrile examination when handling the chile. You'll notice that some or perhaps most common recipes call for the stemmed and seeded chiles to be toasted in a skillet and then boiled in water or the soaking liquid to soften and prepare them for blending. We skip this step and soak them for several hours or overnight.
The next step is to blend the pods together with your seasoning. If you don't have a commercial or high powered blender then you'll want to do this in batches. We use a commercial Vita Mix and over the years have killed several of them. A high powered blender such as the Vita Mix will blend it so fine that you'll be tempted to skip the sieving process, but don't the residual chile skins can give you serious heart burn.
The seasoning you choose is a personal choice. We again prefer to go simple and let the earthy flavor of the chile to dominate the sauce profile. At the time of blending we do an initial salting and add granulated garlic, onion powder, a bit of sugar and a dose of high quality roasted vegetable base. We do not use Mexican oregano or cumin. You can substitute a beef base for the roasted vegetable base if you prefer.
Now blend well and run it through a sieve to remove any remaining skins. Add to a large sauce pot and use the some of the soaking liquid to bring it to an initial consistency. Slowly bring it to a boil stirring frequently then reduce to a simmer. Make a light slurry of water and corn starch adding gradually while stirring to bring the sauce to the desired consistency. This is our process for red chile sauce. I didn't add amounts of spices as this is a matter of taste. The most important thing is to continue to make until you reach your desired result.